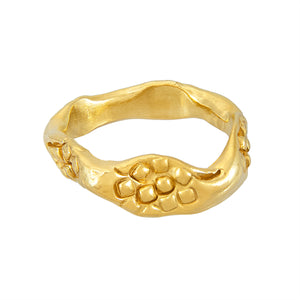 Born from curiosity and material experimentation, IMPRINT Collection is joyful, dynamic and easy to wear. The designs combine minimal geometry of a square pattern with organic imperfection of hand-moulded wax to form elegant and confident contemporary jewellery pieces.

All jewellery from the IMPRINT Collection was first carefully designed in wax, then cast in precious metal and finished by hand. The surface of the jewellery often carries unique textured traces of the hand-moulding and casting processes. To learn more about the techniques I use in my work please have a look at my blog.
This ring is a one-off design. 
The clusters of square pattern are scattered all the way around the band.
Ring Size: M 1/2.
Material: gold plated sterling silver.
Finish: polished.
Height: 3 - 6.5 mm.
Thickness: 2 - 4 mm.
Weight: 4.67 g.
If you would like to commission a similar ring in a different size or materials please get in touch and I'll be very happy to discuss the options.