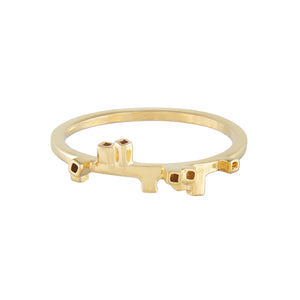 CØLØNY Collection was born very intuitively. It is inspired by the complexity and intricacy of LIFE in its different manifestations: our human urban landscape, the microcosm and the vastness of the universe.
All jewellery pieces from this collection were originally designed in metal through careful soldering of the many little square tubes onto the body of the piece. Each piece of jewellery is now cast in precious metal and finished by hand. Due to the nature of these processes the surfaces and edges of each piece will be unique. To learn more about my processes please have a look at my blog.
Material: gold plated sterling silver.
For sterling silver click here.
Finish: polished.
Dimensions: band height - 1.2 mm, front pattern height - 5.3 mm.
Approximate weight: 1.30 g.
This ring will be normally made to order with processing time of 3-6 weeks. Please get in touch before ordering if time is an important factor.
Please pick the required ring size from the drop-down menu. If you are unsure about your required size please check my advice page.